150-Year-Old College Finds Key to Restoration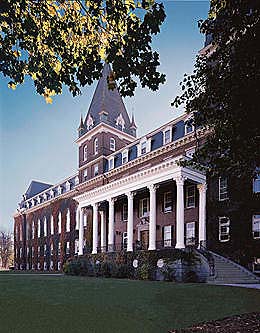 LAWRENCEVILLE, GA – After one-hundred-fifty years of classes, gatherings and graduations, the College of the Holy Cross decided it was time to repair and restore its signature building and icon of the college, Fenwick Hall. Years of harsh weather and use of antiquated products contributed to the deterioration of the building, but mostly, to the deterioration of the authentic Roman Corinthian wood columns featured on the Fenwick Hall porch.
According to Mark Savolis, archivist for the College of the Holy Cross, "the ability to authentically replicate the columns, capitals, bases and plinths was critical in selecting a column manufacturer". Quality of construction, price and the ability to deliver the columns prior to the start of the fall semester were also critical factors. According to the contractor, Francis Harvey & Sons, "Melton Classics™ was selected because they met all the selection criteria, backed the columns with a 10 year warranty, and offered the columns at an affordable price. Most of all, we were impressed with their level of knowledge and expertise and felt comfortable that they could handle this complex project."
Melton Classics™ has completed replication and restoration projects throughout the country with quality products including authentic wood columns, fiberglass columns, poly/marble columns, and synthetic stone columns and balustrades.
For your next restoration project, contact Melton Classics™ for information on their complete line of column and balustrade products.