DuraClassic™ Poly/Marble Columns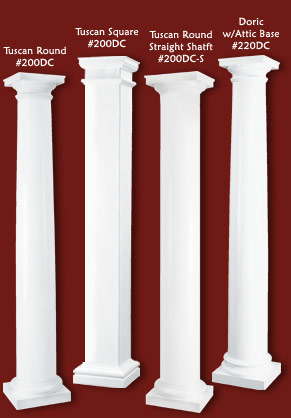 In keeping with the Melton Classic standard of quality, traditional classical designs have been combined with state-of-the-art technology to create this innovative architectural columns. Based on the timeless Orders of Architecture, every column component from the crisply detailed Tuscan capital and base to the entasis tapered shaft are cast from fiber-reinforced polyester resin marble composite.
The DuraClassic™ Round columns are available in diameters from 6″ to 24″ and heights from 4′ to 24′. In addition to our standard Tuscan capitals and bases, we also offer Roman Doric capitals for use with our Attic style bases. Square columns are available in a Tuscan design in 8″, 10″ and 12″ shaft sizes in heights from 4′ to 14′. Straight shaft Tuscan design columns are available in 8″, 10″ , 12″, and 14″ diameters.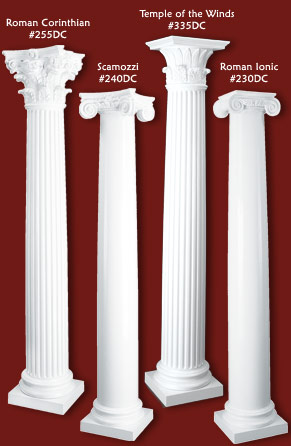 Limited Lifetime Warranty
Melton Classics, Inc. warrants that its DuraClassic™ column will be free from defects in material or workmanship for the lifetime of ownership as long as the DuraClassic™ columns have been installed according to manufacturers recommended installation instructions. For complete details of this limited lifetime warranty contact the company direct.
For available sizes and dimension information click on a selection below
Tuscan Column-Round
Tuscan Column-Square
Tuscan Column-with Attic Base
For a complete list of designs, sizes and dimension information click here DuraClassic™ Ornamental Capitals and Bases